Album Review: We Are Augustines - Rise Ye Sunken Ships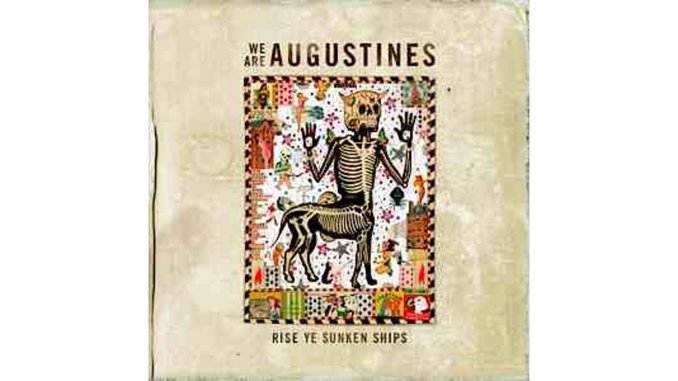 I first heard bits and pieces of what was to become Rise Ye Sunken Ships one night several years ago, sitting in the passenger seat of a purplish-blue van, door open to the balmy dark velvet of a summer South Carolina night. Sitting there in the still, listening, it felt as though anything could become of that magical music. Fast forward a few years, and lo and behold, much has happened indeed. For We Are Augustines, Rise Ye Sunken Ships stands both as a triumph in the name of perseverance and one heck of a debut record.
Sentimental, earnest, and full of cautious, hesitant optimism, Rise Ye Sunken Ships begs to be considered a modern American classic. The simple honesty in Billy McCarthy's homespun lyrics come off as contemporary folk tales, thanks especially to that heart-laid-bare, empassioned delivery of his. Colored by personal traumas, McCarthy's yarns retain an irrepressible air of wide-eyed optimism above all, and the record itself comes across as absolutely positively nigh on exuberant.
There's really not a bad song in the bunch, though of course I've got my favorites. Lead-off song "Chapel Song" is terrifyingly good, and I've listened to it a disturbingly large number of times. It sounds too good to be true, and far too perfect to be on a debut album. But then, the same can be said about most of the record. The song's pulsating, pounding heartbeat rush gives way to "Augustine," one of McCarthy's finest lyric moments, and a subtlely powerful piece of Americana-drenched urban folk. "Book of James" is another impeccable track, huge in sound and full of what I like to think of as "soundtrack moments," big on dramatic effect and perfect for pivotal scenes on screens of any size.
"And all these words/can all get spoken/Just know we tried/and you're forgiven," sings McCarthy, wistfully and plainly, with a growing swell of lush sound masterfully led by multi-instrumental bandmate and co-conspirator Eric Sanderson crashing behind him. "East Los Angeles" feels right for a sun-drenched dusk full of sepia tones and memories, while "Philadelphia (The City of Brotherly Love)" takes a much more rambunctious approach, sounding like a favorably updated, golden era Mellencamp song. "Barrel of Leaves," a slow-burner if ever there was one, is so tender and china breakable it could end up bringing a tear to your eye.
We Are Augustines is a band borne out of ashes, and this record they've made has set quite a standard. It's a beautiful record, made by wonderful people, and mercy me, y'all, you really need it in your life.